ArcGIS for Microsoft Office
Did you know that you can harness the power of the world's leading geospatial software within the familiar interface of Microsoft applications? ArcGIS for Office is an add-in for Microsoft Office that brings the superior mapping capabilities of ArcGIS into Microsoft Excel and Microsoft PowerPoint. 
Your ArcGIS Enterprise & Online subscription includes access to the ArcGIS for Office add-in. This means you can add layers from your online portal, access hundreds of layers of authorized data from the Living Atlas to augment your data and run spatial analysis tools to discover hidden patterns within your data to make more informed decisions—all without leaving Excel! 
From Excel, you can share your results to ArcGIS and add web maps you've created to PowerPoint. Enhance your PowerPoint presentations with interactive, dynamic maps added directly within your slides combined with standard PowerPoint features such as charts, images and text. Microsoft Teams users may prefer to share their work through the Teams chat or channels, where colleagues can view it within the Teams environment itself.
ArcGIS is also available within Power BI! It is a custom data visualization built into Microsoft Power BI that brings mapping capabilities to reports and dashboards. The combination of ArcGIS maps and Power BI takes mapping beyond the presentation of points on a map to a whole new level - the combination of authoritative data layers on a map with spatial analysis conveys a deeper understanding of the data in your visualization.
This webinar by Esri India will guide you on how to incorporate location intelligence to transform your data into interactive maps within the Excel and Power BI environments and share your work easily and effectively via Teams and map-based presentations in PowerPoint.
Key Takeaways
Learn how to create and share ArcGIS maps within Excel, Power BI, PowerPoint, and Teams –
Visualization: Map location data within your spreadsheet
GeoEnrichment: Enrich your data with the latest ArcGIS demographic data to discover deeper insights
Location Analysis: Use ArcGIS analysis tools to visualize spatial relationships between entities in your dataset and make smarter decisions
Sharing and collaboration: Present your work via interactive maps in PowerPoint slides and share results with your team via your ArcGIS organizational account
Who Should Attend?
This webinar is designed for everyone who uses data that they would like to convey and interpret spatially within applications that they are already familiar with. Users from all domains are encouraged to attend - Public safety, Infrastructure, Insurance, Telecom, Real-estate, Logistics, Retail, eCommerce, Smart cities and Healthcare programs etc., NGOs, Academia, leaders from Local government, State government, Central government, Academia and Startups.
Speaker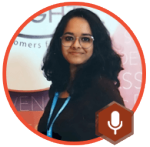 Deepanwita Dutt, Esri India