ArcGIS Deep Learning Studio
ArcGIS Enterprise users can now participate in the Deep Learning Revolution with ArcGIS Deep Learning Studio
By Saranya M
July 10, 2022
As the world of GIS continues to evolve, we have seen an increase in the number of organizations who are adopting new technologies to improve their production and analysis workflows. One such technology is GeoAI, where we use AI & deep learning to automate mapping.
We usually have multiple members working on a single mapping project, especially when the area of interest is large. When we have multiple team members working on multiple images or image services to map multiple features, there is a need to streamline this workflow. This is where Deep Learning Studio can help.
ArcGIS Deep Learning Studio is an exciting new addition to ArcGIS Enterprise. ArcGIS makes it easy for users to collect training data, visualize & review the training data and train their models directly in ArcGIS and then easily share those models with their organization. Our Deep Learning Studio allows even the most inexperienced computer users to make the most progress in machine learning with the least amount of effort by simple and understandable features.
To understand the capabilities of ArcGIS Deep Learning Studio, let us take an example of a mapping a region in Andhra Pradesh called "Nuzvid". The objective of this project is to detect & count the trees, extract roads, buildings, and farm boundaries. When ArcGIS Enterprise is configured for Raster Analytics, we can assign different privileges to different team members in this project.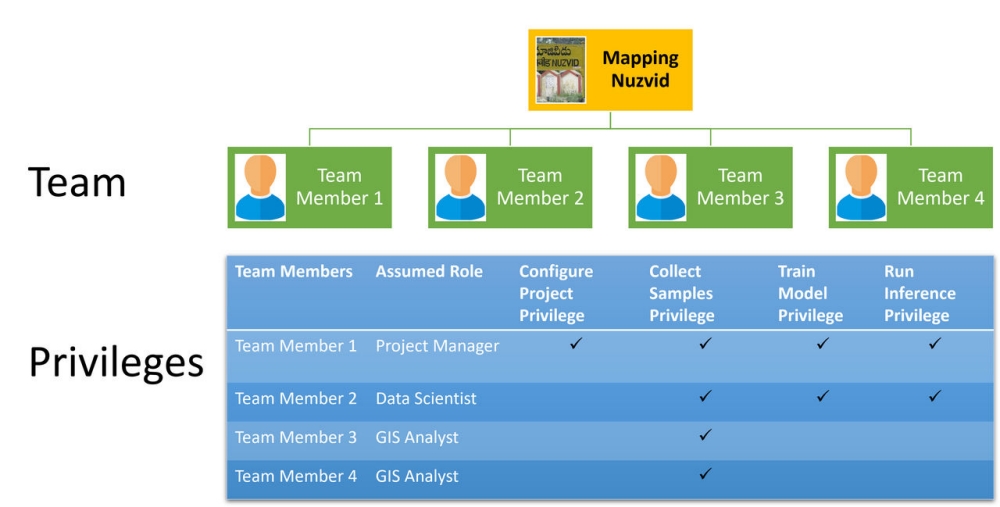 Example of Team Members & their Privileges

As shown above, this project has 4 members – Samkith & Manjusha has privileges only to collect the samples. They cannot train (or) run inferencing on deep learning model. Deepanwita can collect training samples, train a model, and run inferencing. Only one person can have the privilege to configure the project. Let's distribute this project work as shown in the flow chart below.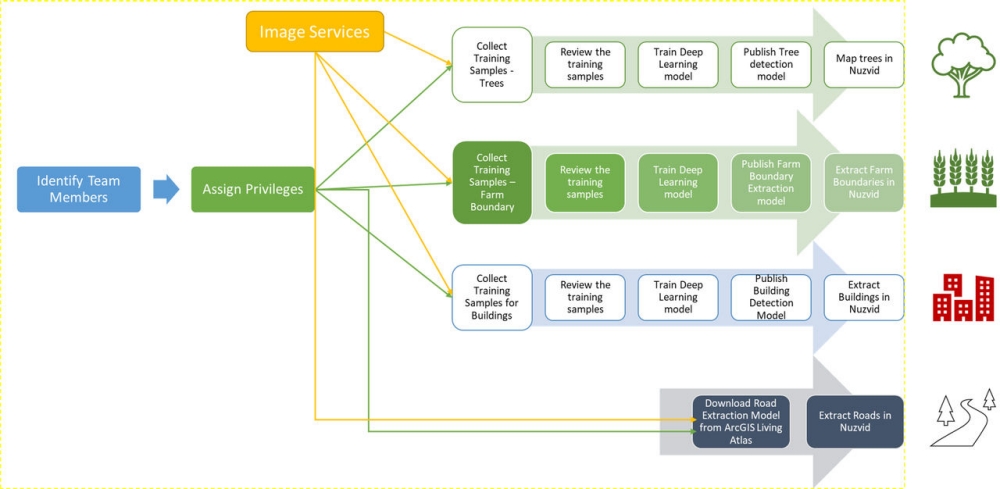 Let's dive deep into how to get started with end-to-end deep learning workflow.
 

After sample collection, you can export the training data as image chips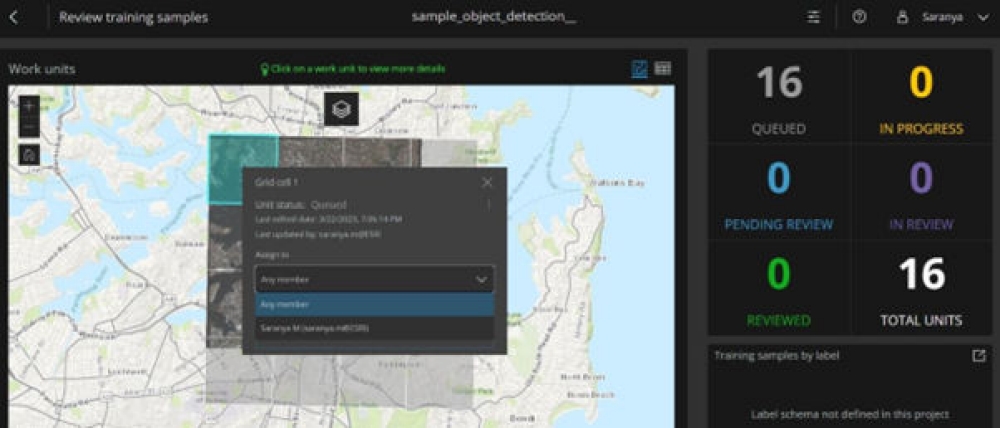 After sample collection, you can export the training data as image chips

After sample collection, you can export the training data as image chips

Once the training data is ready, we can go ahead and train the model.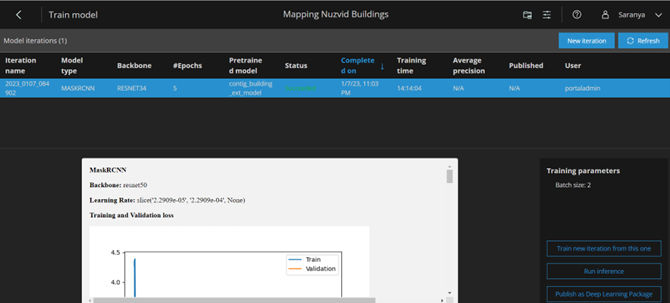 Finally, we can use the "Run Inference" tool to apply this model on other images. Deep Learning Studio is one web app, but each of the steps can be treated as individual web apps. For example, you can directly jump to "Run Inference" section, if you already have a model file. Here we have used the pre-trained model from ArcGIS Living Atlas for Road Extraction (Global).
Let us take a look at some of the results of inferencing.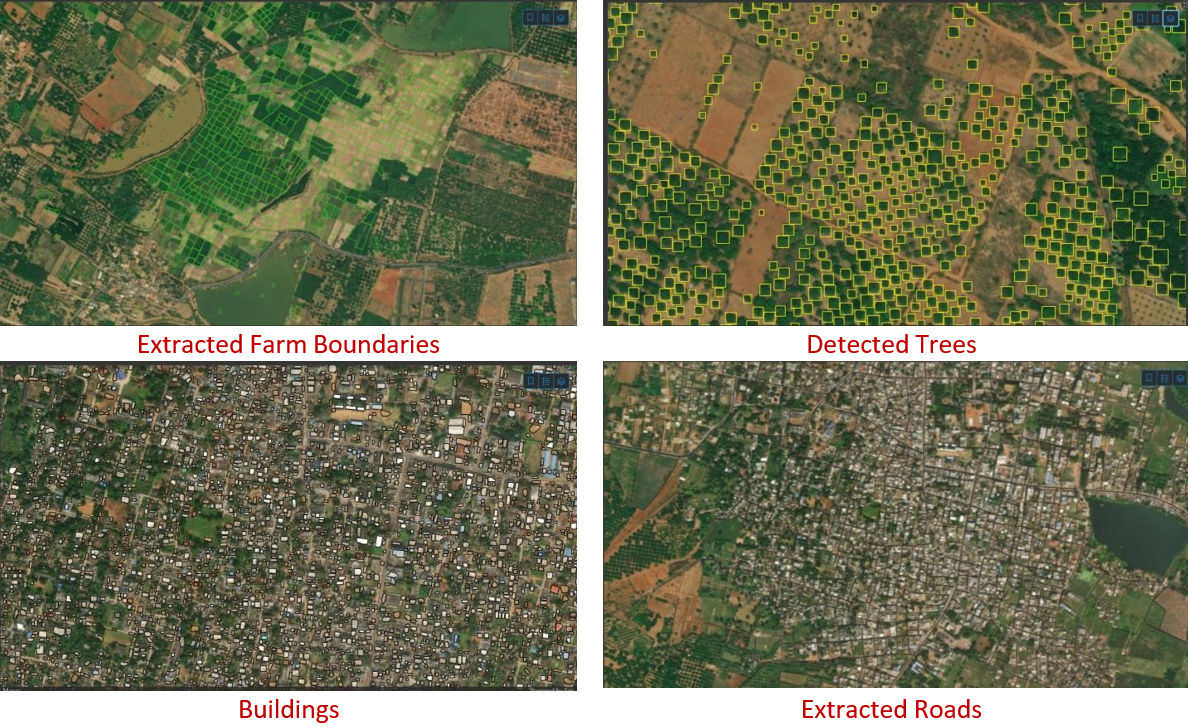 Our Deep Learning Studio allows anyone to easily build, train, and deploy deep learning models. Our Deep Learning Studio is built on the foundations of collaborative technology, to allow both machine learning experts and non-experts enjoy the great benefits of deep learning without needing much coding or expertise in this domain.
We hope this blog can get you started and lead your interest to deep learning with ArcGIS.
Additional Resources:
See the following links for more information regarding ArcGIS Knowledge:
Saranya M is an Assistant Manager on the Presales – Data Science team. She is focused on helping users better understand GeoAI in ArcGIS.
Want to know more?
Contact
Find your local Esri India office and get answers for your questions.
Careers
Search available positions, or contact our human resources team.
Give us a call
Talk over the phone